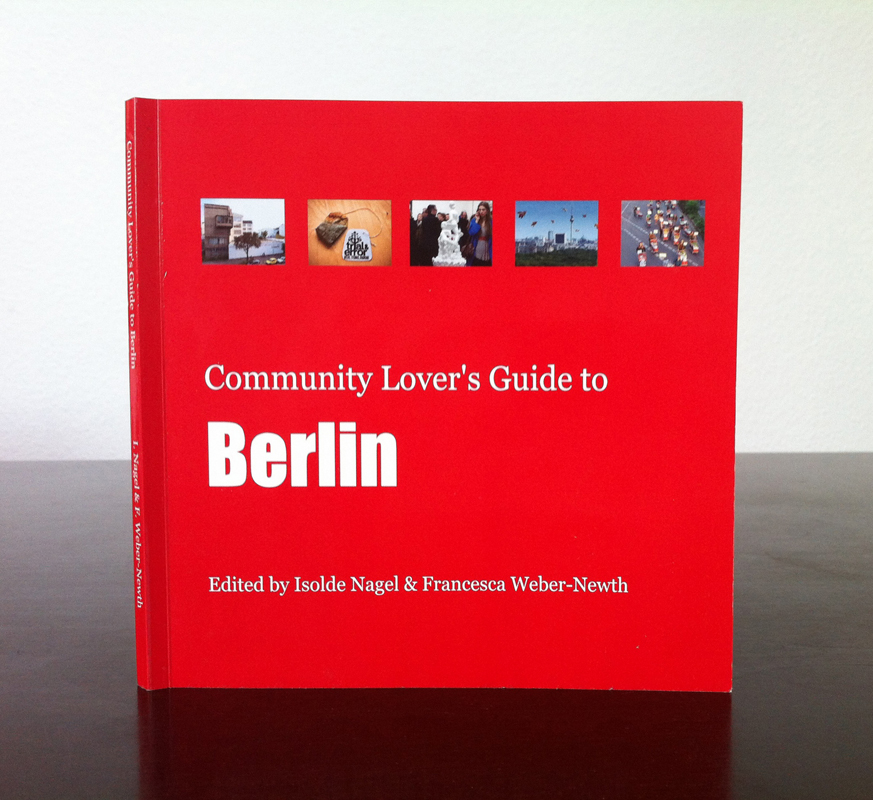 ¬ 1
¬ 2
¬ 3
¬ 4
¬ 5
¬ 6
¬ 7
¬ 8
¬ 9

A trans On Tour | A Big Bang City

#02 A trans feat. Community Lover's Guide to Berlin

Within TransEuropaFestival 2013
www.transeuropafestival.eu





Sunday, 20.10.2013, 5 PM

Book release I
The Community Lover's Guide to Berlin
Edited by Isolde Nagel & Francesca Weber–Newth

PRINZESSINNENGARTEN am Moritzplatz
Prinzenstrasse 35 – 38 / Prinzessinnenstrasse 15
10969 Berlin
U-Station Moritzplatz

Before:
Sunday, 20.10.2013, 2–5 PM

Bike Tour – Community Lover's Guide to Berlin
Visiting 4 inspiring community projects in Berlin-Neukölln/Tempelhof
Meeting point: 2 PM, SDW–NEUKOELLN, Pflügerstraße 11, Berlin–Neukölln

For registration: berlin@euroalter.com

http://us7.campaign-archive1.com
www.facebook.com/events

For more information:
www.communityloversguide.org

Order your own copy at
www.blurb.com





Within Borders-to-cross-conference 2013 in Amsterdam /NL
www.borderstocross.com






Tuesday, 29.10.2013, 8 PM

Book release II (International)
Community Lover's Guide to Berlin
Edited by Isolde Nagel & Francesca Weber–Newth

EU initiatives Parade
Pakhuis de Zwijger
Piet Heinkade 179, 1019 HC Amsterdam


The Community Lover's Guide to Berlin is a book showcasing community initiatives in the city, which has just been completed! The book is a manifesto for the power of Do It Together (DIT), by showing the breadth of initiatives already active and 'doing' community in Berlin. The book is one element of an international series: The Community Lover's Guide to the Universe — A collection of stories from 50+ cities across the world highlighting the many ways in which active residents and social entrepreneurs form thriving communities which enhance the quality of live in their cities.
Our book is a collection of 17 chapters, each written by the initiatives themselves, sharing their experiences and successes with the reader. To name just a few: Trial & Error, Rütli-wear, Ula Umsonstladen, ufaFabrik, Gartenstudio, Prinzessinnengärten and Schokoladenfabrik. The initiatives promote ideas of recycling, up–cycling, growing and making. There are weird and wonderful ideas to be shared: a kids circus, tomatoes growing in movable sacs, school children running a fashion label and communal housing projects. In each chapter the idea of the Berliner 'Kiez?'(neighbourhood/community) and its inherent value is present. The aim of the book is to show that Berlin is a diverse city, where all sorts of people share knowledge, time and space to create a better environment for everyone.