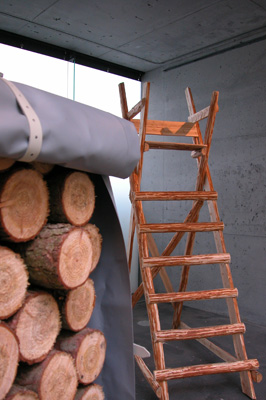 ¬ 1
¬ 2
¬ 3
¬ 4
¬ 5
¬ 6
¬ 7
¬ 8
¬ 9

¬ 10
¬ 11
¬ 12
¬ 13
¬ 14
A synchroni-city No. 2



Francis Zeischegg lookout – mobile Konstruktionen (mobile constructions)
March 18 – May 13, 2007

Opening: Saturday, March 17, 2007 at 4 pm

Francis Zeischegg deals with themes lying at the borderline separating art, architecture, and perceptions of social space. Space is conceived not solely as a formal constant, but instead primarily as the dynamic result of social and individual processes and practices.
The second exhibition in the series A synchroni-city presents models and spatial installations, next to prints relating to typologies of observation architecture..

Opening Hours:
Friday + Saturday 2 – 7 pm and by arrangement
Shopwindow 24 hours


The exhibition is accompanied by an Artist talk on the topic of observation architecture in public spaces and a 'Picnic in the forest-district'.

Picnic
Sunday, March 25, 2007 1 pm
with Stefan Jäckel (Landscape architect St raum a., Berlin)

please give your confirmation per mail till March 21, 2007

more information (infopic.pdf)
approach (routepic.pdf)

Artist talk
Friday, April 27, 2007 7 pm at pro qm
Almstadtstr. 48-50 in 10119 Berlin
with Francis Zeischegg and Martin Kaltwasser (architect/artist, Berlin)
presented by Isolde Nagel

Many thanks to Stefan Jäckel und pro qm.